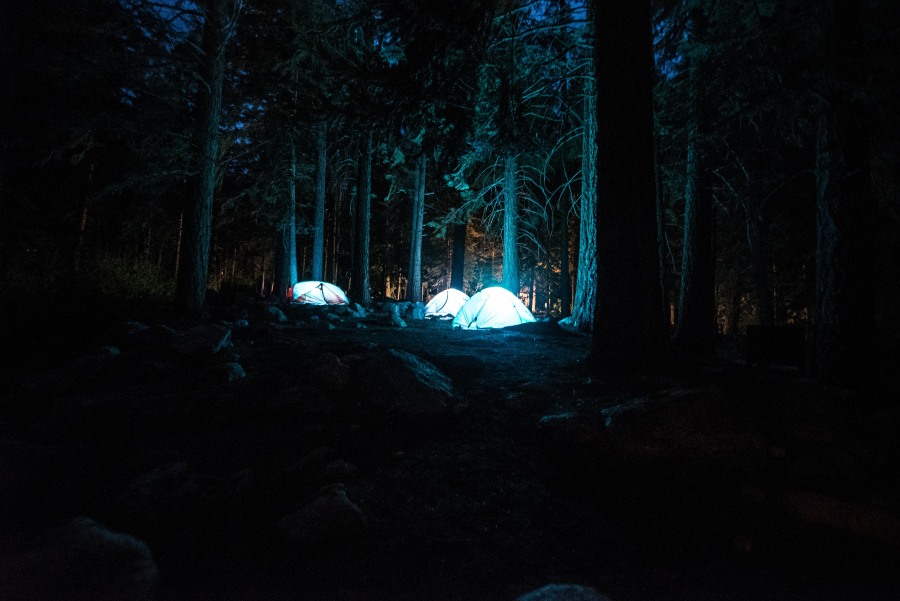 How To Take The Stress Out Of Camping
If you love the great outdoors, mother nature, and the smell of fresh air, nothing will please you more than a nice camping trip. But, there are some things you need to know about camping before going on your trip. This article will give you the best camping tips around and help you prepare to get the best experience.
Preparation
Nobody ever wants things to go wrong but insurance is very useful if it does. Make sure you know what's covered in your medical insurance and that it is up-to-date. You may need an additional policy if you go to another state. This is even more crucial if you will be camping in another country. Be prepared in case anything happens!
Before you leave on your trip, put up your tent to make sure you know (or remember!) how to put it up. This will also allow you to see if anything needs to be patched up. It will make it that much easier for you when you get to the campsite. If you are using a campervan, get it checked ahead of any long trip, especially tires, brakes, lights and steering. Make sure the oil and fuel are ok and service any internal mechanisms. A good clean (even if it looks clean from last time) may help you find out any problems BEFORE you leave.



Check the weather forecast for the area you are going to, especially if it is mountainous and bring appropriate clothing. The higher you go, the colder it gets. Remember to also pack a rain poncho no matter what the weather forecast predicts.
Give yourself enough time to set up camp before dark, so plan your travel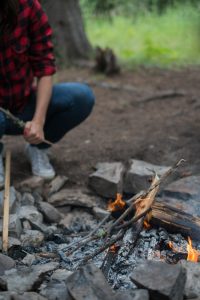 accordingly. It can be extremely difficult to set up camp in the dark and possibly unsafe. You need to be able to scout the terrain, prepare bedding, and possibly build some temporary shelter prior to the sun going down. You may find a GPS unit handy for finding your camping site.
You might think that you can find all of the wood that you need to keep the fire going, but the wood you find might be wet and not want to burn. Bring along some dry wood and store it in an area that is not moist when you camp.
Survival
If you are going backcountry camping, you should probably carry a snake bite kit in your gear. The best snake bite kits are the ones that use suction. Some kits have scalpels and blood flow constrictors in them. Scalpels can actually cut the poison into the blood stream faster, and constrictors can be deadly if not used properly. An emergency kit is useful for a camping trip. Take things for specific creatures as well, so keep some anti-venom on hand.
Bring a survival kit with you and be sure to always have it on your person at all times. This is an EDC – Every Day Carry – when camping. Your survival kit should contain a survival knife, water-purifying tablets, a first aid kit, and a flare gun. An emergency bracelet may also be useful. This kit may help you to stay alive if you get lost and you're stuck outside in a survival situation. Remember to carry it with you and do not leave it in your campsite.
You may also find that a  multi tool credit card, that fits in your wallet would be a handy item to have with you.
A survival knife is possibly the most important part of your camping gear. Buy a high quality survival knife, not just the cheapest you can find, your life may depend on it. These knives are all very similar; they have a long blade serrated on one side and a hollow handle. Inside the handle you can carry fishing line, hooks, a compass, and matches as a small survival kit.
Did you know that a simple mirror can save your life? If you are camping and end up in a survival situation, a simple hand held mirror can be used to signal for help many miles away. Do not buy the standard glass mirror, many camping supply stores sell mirrors made of Lexan that will float and are practically unbreakable.



Again, for backcountry camping, a must carry item is a fire starter kit. If you are in a survival situation, fire is a way to cook, keep you warm, purify water, and signal for help. Many camping stores sell fire starters that can be used when wet and do not require any fuel. Also, try making fire when you are not in a survival situation so you know you can do it if the need arises. Lint from your dryer is a light and useful item to carry as a fire starter (hint, you should clean out your dryer lint regularly, not just for camping survival but because dryer fires are one of the biggest killers in the home each year).
It is important to keep in mind the fact that getting dirty is inevitable. Enjoy hanging out in the woods and get down and dirty. You can get clean and civilized when you get back home.
Always take more water than you think you will use when you go on a camping trip. Many times, people forget how much water is needed. It is used for drinking, washing dishes and hands, cooking and even brushing your teeth. Water is not something you want to be without.
Food
When going camping, try to buy non-perishable items to eat. There are no refrigerators in the wild, so everything you bring has to be kept in good order. You can certainly bring a cooler to put food in, but the cooler will be added bulk on your trip. Therefore, make an effort to bring more non-perishable foods than perishable. Of course, you could always go fishing, to provide some food to eat, if you are going to be beside a lake or river.
Comfort
If you have the space and can carry them, purchase some pillows that are made specifically for camping. Standard bed pillows tend to get hot and sticky in humid weather. They also take moisture from the air and can mildew quickly, whereas camping pillows have a protective outer layer that does not absorb the moisture.
If camping is something that you are new to, stay close to home. You don't want to be far away if you decide you've had enough of camping, or you may find you don't like camping. You may run out of food or need more clothing than you packed. Many problems may occur for novice campers, so you should camp near home your first time.
Use orange peel mosquito repellant. This is an especially useful tip to remember if you forgot your insect repellant. This should effectively repel mosquitoes for long periods of time.
A utility knife is the perfect camping trip companion. Utility knives are among the most versatile pieces of equipment in a camper's arsenal so bring along at least one.
Pack your things carefully and efficiently. Create a supply checklist for your trip and check off while you're packing them. This is crucial if you are camping in an area that is remote and has limited access to emergency impacting the quality of your trip.
Ideas
If you are going camping with your pets or children, you need to take a few extra precautions. Try to teach your kids the basics of camping safety. They need to know what to do if they get lost and should each have a small survival kit. Make sure you have leashes for any pets and make sure they are current with all vaccinations.
Even if you don't need a light for yourself when camping, it is very useful if you are taking children with you; some of them don't like the dark. A flashlight, lantern or a torch is very helpful if you need to visit a bathroom site during the dark. It's often considered good manners in a campground to turn your lights off once it gets late in the evening, so you don't disturb others, but that can be a problem for some children. You can get dim lights that won't disturb the neighbor but will keep your child happy. It may be hard to realize just how dark it can be in the wild if you are used to city life with constant light. If you have a lot of gadgets, you may need to top up the power and a solar power pack can be a lifesaver in more than one way, keeping your gadgets going and keeping the kids occupied if they are missing their video games.
A camera or a videocam is great fun to record your holiday trip so you have plenty of memories to look back on. Photography enthusiasts will probably take a special camera bag or camera backpack with them to carry a spare camera lens or tripod for the best pictures. If you can afford it, an automatic camera for the children will be good fun for them and can help them write those holiday essays when they go back to school, as well as remind them of the different things they saw and did. Some of the more well known names in photography include the Canon camera and Nikon camera models.
Food poisoning is important to avoid while camping. If your food isn't canned, vacuum-sealed or preserved, you are exposing yourself to the possibility of experiencing food poisoning from eating spoiled food.
Camping often sounds like a great deal of fun, and it is; however it does require some special preparation. Before going camping for the first time, make sure you have done some research on the kind of tent you might need, food and wildlife survival. It can make the difference between a great trip and a dangerous one. It's also possible to rent a tent to try out the outdoors life if you are not sure whether camping is for you.
As mundane as it may seem, packing a roll or two of toilet paper is a great idea when you are going camping. If your campground or location doesn't have a properly installed restroom, you'll need to go in the woods. Leaves can be dangerous alternatives to toilet paper, so you will want to use toilet paper or moist wipes to wipe.
It is imperative that a first-aid kit and other survival items never be forgotten for a camping trip. These kits can assure you have everything you need in any unexpected situation. This allows you to help someone should they become injured.
Dress yourself up in multiple layers when camping. Weather can change very quickly. A chilly morning can turn into a hot afternoon. The evenings can then turn cold again very quickly. You'll need to have layers of clothes so it's easy to adjust what you're wearing throughout your day.
In conclusion, going on a camping trip is for you, if you enjoy being outdoors. But, it's crucial that you are properly prepared for your trip if you want to have a good time. The tips this article has provided you with can be used to help you have the best camping trip ever.